Bean to Bar Chocolate Making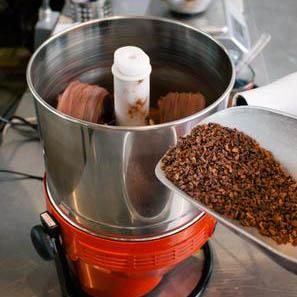 90 min / $150 per person
Go behind the scenes into our chocolate factory and learn how to make chocolate from the cacao bean with one of our Chocolate Makers. Learn the basics of chocolate making starting from the bean. We will teach you how to roast, refine and temper chocolate. Besides the experience and knowledge gained throughout the class, you will also go home with a complimentary chocolate bar of your choice.
For more information about private events and group rates please email classes@indichocolate.com 
It is possible to have a private class or purchase a class as a gift.
**We cannot refund a ticket, but for unusual circumstances, we will transfer you into another class or event for a different date.
Sign up for our upcoming class:    
indi chocolate follows all relevant guidelines to keep our team and customers safe. This includes requiring proof of vaccination and use of masks.
Due to unpredictability of COVID and variants, classes may need to be rescheduled on short notice.
Please contact us about this class for 2022