Truffle Making Class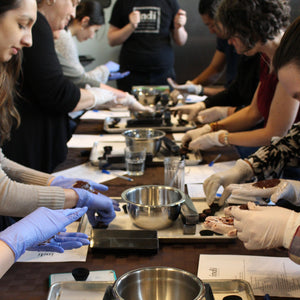 75 min 
Learn about how bean to bar chocolate, ganache and truffles are made. Make hand-rolled truffles and experiment with your own favorite flavor combinations. Take truffles you've made home to share with friends and family. This is one of our favorite classes because it really allows you to play with flavor combinations. Let us know if you have allergies. 
All of our chocolate is 72% dark chocolate (made without soy, dairy, and gluten).
For more information about private classes and events, please email classes@indichocolate.com. 
It is possible to purchase a class as a gift.
**We cannot refund a ticket, but for unusual circumstances, we will transfer you into another class or event for a different date.
Sign up for our upcoming classes:     
Mother's Day Truffle Class
Sunday, May 14, 2023 from 6:30 PM to 7:45 PM
Moms and Mom's friends will enjoy this hands-on class led by Peter, our Chief Chocolate Maker at our cafe/factory/store in Pike Place Market!  You will hand-roll and hand-dip truffles, then customize them with your chosen decorative toppings.  Each participant will take home 6 hand-made truffles in elegant gift boxes. 
This is a super fun and popular experience for first-timers, enthusiasts, and pros!
Price is for one participant; maximum class size is twelve.
All class participants receive a 10% off discount in the store after the class.
If you would like to book something in the future with a specific date, please email classes@indichocolate.com with the date and number of people for the event or class.
indi chocolate follows all relevant guidelines to keep our team and customers safe. 
Due to unpredictability of COVID and variants, classes may need to be rescheduled on short notice.