Chocolate Class for Youngsters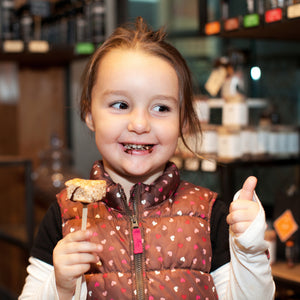 60 min 
Due to COVID, this class is currently on pause.
indi chocolate follows all relevant guidelines to keep our team and customers safe. This includes requiring proof of vaccination and use of masks.
Due to unpredictability of COVID and variants, classes may need to be rescheduled on short notice.
Our founder started her bean to bar chocolate company because she wanted to teach her daughters where chocolate comes from. Join us in our chocolate factory to learn about how chocolate is made.
Each child will be able to make their own chocolate bark with inclusions of their choosing.  
Please Note:
If there are allergy concerns, please let us know, we can accommodate.
For ages 4-7 one adult must be present.
For ages 8-11the youngster can do it by themselves if they choose.
If you are a parent/adult and are just there to help your child you do not have to buy a separate ticket.
If you are a parent/adult that wants to also make chocolate please buy a separate ticket.
All of our chocolate is 72% dark chocolate (made without soy, dairy, and gluten).
For additional information on private events please email classes@indichocolate.com.
***We cannot refund a ticket, but for unusual circumstances, we will transfer you into another class or event for a different date.
Sign up for an upcoming class:  
In order to keep everyone safe and healthy, our classes are on pause right now.
We do offer, and appreciate, the purchase of, gift cards for classes.
If you would like to book something in the future with a specific date, please email classes@indichocolate.com with the date and number of people for the event or class.