Make Your Own Bitters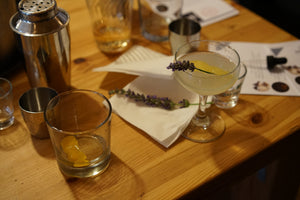 What we'll do
Have you ever asked yourself, "What are bitters?"
Come take a deep dive into the answer.
You'll be guided through a crash course into the world of bitters where we will talk about the history, mystery, and reason as to why they are such an essential ingredient in cocktails.
Taste a wide variety of bitters from around the world and experience how they can be used in different culinary applications.
See, smell, and taste the botanicals that play a role in creating the varied flavors of this herbal concoction—and create your very own bitters from scratch to pair with your favorite spirit and craft a signature drink at home. Learn more about the cacao and chocolate side of bitters and bittering agents.
Think of it a basic cocktail class with a classic twist!
What is provided
Snacks -- lite snack and refreshments will be provided. Please let us know about any dietary restrictions when buying tickets.
Apertif
Bitters Kit -- includes a tin to place ingredients used to blend your personal bitters creation along with instructions to complete at home.
What to bring
Come ready to learn, have fun, and utilize your senses.
This is a 21 and over experience. ID will be verified upon arrival.
Your Instructor, Our Guest Bitterologist
Please join local Bitterologist and Home Bartender, Sonie Watson.
Sonie has navigated a 20-year hobby into a 10+ year career in the spirits industry. She has earned several certifications and holds a wealth of knowledge that she is excited to share with fellow cocktail curious humans.
She has taught wine, spirit, and cocktail classes featuring nationally known brands and has been a featured mixologist for a cocktail subscription service.
When creating cocktails, people often ask, "What are bitters?" Sonie created and hosts this class to answer that question by sharing all of her knowledge as a cocktail connoisseur.
Come ready to have some fun!
Friday, December 13, 2019, from 6:00 PM to 7:30 PM