The Premier Chocolate Refiner goes to Honduras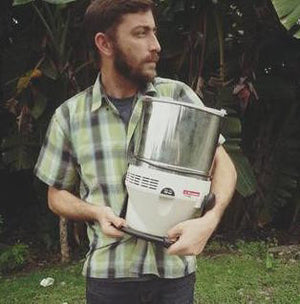 At indi chocolate, we love to see people helping cacao farmers become chocolate makers with the Premier Chocolate Refiner.
Eric Gilbert got an earlier start in chocolate making than most of us.  He started making chocolate in his family owned chocolate shop in Prince Edward Island and wanted to learn more about making chocolate from the bean:
"I've been working with chocolate since I was eleven years old and have been working with the Kallari Association in Ecuador since 2006." 
During the slow season in Prince Edward Island Eric travels to origin countries and has helped set up fermentation centers on cacao farms, taught truffle making courses and helps cacao farmers with post harvest methods to ensure high quality cacao and chocolate products.
Currently, Eric is in Honduras working with a farmer cooperative called ASOPROPIB in Saladia. 
Eric is using the Premier Chocolate Refiner to teach bean-to-bar chocolate making workshops in Honduras, so that farmers in country are able to produce their own chocolate from the cacao beans that they grow themselves. 
With the help of experts like Eric Gilbert, the Premier Chocolate Refiner has made chocolate making accessible to the cacao farmers themselves. 
Stay tuned for more on how the Premier Chocolate Refiner positively impacts people all over the world!