Philippine Adventures in Cacao and Chocolate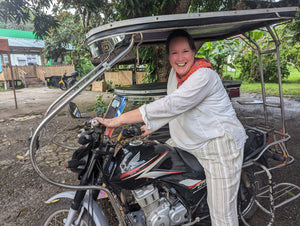 As the founder of indi chocolate, one of my favorite parts of my job is being able to work with cacao farmers around the world. When I was asked by the Grameen Foundation if I could help a group of farmers in the Philippines develop new value added cacao products, the answer was a definitive yes.
Michael Pascual, from the Grameen Foundation helped arrange my volunteer trip with cacao farmers in the Philippines. As well as working for the Grameen Foundation, Michael is also a cacao farmer.
This would be my first time back in the Philippines since the pandemic and I was eager to go back. Wonderful people, great food, beautiful beaches and some of the world's best scuba diving, along with a long and fascinating history of cacao, were reason enough to want to return.
This time, I would stay on the same island where Manilla is located and south of the capital, in Quezon Province. I worked alongside the wonderful people at the SICAP cooperative. I love working with cacao farmers.
The first cacao to be grown outside of the Americas was grown in the nearby Batangas area of the Philippines. The Spanish brought cacao to the Philippines in 1651 and started a culture of enjoying chocolate earlier than many countries were aware of the joys of chocolate. 
A long history of planting old varieties of cacao in remote tropical islands is my idea of paradise. Cacao is a plant that can easily cross pollinate, so islands are a great way to keep some of the older strands pure. One never knows the flavors to be discovered in this environment and that is exciting for a cacao hunter, like myself.
A recent volunteer, Joyce Macias, had just worked with SICAP on post harvesting to improve their cacao fermentation. As fermentation is an important part of flavor development, I was happy this work started before I arrived. I was also happy to have Joyce helping us make chocolate and train the team at SICAP while I was there.
Former Farmer to Farmer volunteer, Joyce, was great to work with on this project to develop and bring value added cacao products to market for the SICAP cacao cooperative in the Philippines.
Although a brand new chocolate factory had been built for SICAP, the new machines they had ordered from China weren't working, so we borrowed a Chocolate Refiner and got busy making chocolate.
The Chocolate Refiner is my favorite way to teach people how to make chocolate because it is so intuitive and easy. The team I had the pleasure of working with were wonderful and quick studies in making chocolate.
 A brand new factory was donated and built just before arrival, however we had to borrow a Chocolate Refiner to train the chocolate making team how to make chocolate.
The new president of SICAP and I have lived and worked in many of the same cities in the US but never got the chance to meet before this project. While I can claim to have worked (in my pre-chocolate days) on the first FDA validated SAP implementation for the company that made the flu vaccine, Sir Floro has his PhD in vaccines and has worked on the flu, AIDS and COVID viruses. To say I learned  a lot from him is an understatement. Thankfully, Sir Floro is as nice as he is smart.
 SICAP President, Sir Floro, filling the hopper of the winnower in the brand new SICAP chocolate factory.
Tiya Nora is Sir Floras wife and the hostess with the mostest. Not only did she keep us well fed, she also gave us full access to her kitchen to make, temper and wrap chocolate. Nora made me feel like I was a part of the family.
She wonderfully offered up her kitchen (and we eventually took over her house) and air conditioning so we could get new products developed and made for the new Friday and CoCaNut Markets. She also fed us and taught me some Tagalog. 
Vance was extremely helpful during my trip. Vance has a can-do attitude and was someone I could always rely on to get something done, like getting me to the local market to shop for additional ingredients we could use to make a new type of chocolate bar, dipped dried fruit, a chocolate spread and lip balms. 
 Vance was great to work with and a great example of what can be accomplished with a "can do" attitude.  
The chocolate making team were eager to learn and fun to work with. They were a quick study on all things chocolate.
We are thankful for the chocolate making team at SICAP in the Philippines and glad we could borrow a Chocolate Refiner to make chocolate together.
We also got Michael in on the chocolate making.
I also got to meet and visit the former president of SICAP, Sir Flor. It was great to see his farm school in action when I came to speak to the SICAP Federation.  
 Meeting with former SICAP President, Sir Flor, at his Farm School. We're hoping this will be the next generation of female cacao farmers in the Philippines.
I'm so glad I was asked to do this project. I really enjoyed myself and it was wonderful seeing how my 15+ years working with cacao, farmers and chocolate can help others.
I want to give a special shout out to the team I was fortunate to work with as well Michael Pascual with the Grameen Foundation. I not only had great guides throughout this project, I now feel I have more friends and a new family in the Philippines.
By the way, if you find yourself in the Philippines, try and get yourself in the water. The water, like the people, is both warm and wonderful.