Costa Rica Cacao Trip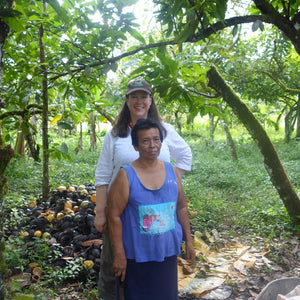 Written by Erin Andrews, Founder of indi chocolate
I travel the world for the best tasting beans, with destinations around the world. Costa Rica was a place that caught my attention long ago and in January I got to go to meet some cacao farmers.
Juan Pablo was kind enough to take me to the many farms I visited.  It was only after he offered me some of his delicious truffles that we realized I had sold him the mold he used to make them.  It's coincidences like this that really make the chocolate community feel so intimate.  We laughed and enjoyed the truffles.
We had the opportunity to visit Juan Pablo on his own beautiful farm.  While walking through the cacao groves, with beautiful plants and trees I saw my first wild toucan, I was so excited that I forgot to take a picture. 
The next farm I visited was owned by Juanita.  Her grandfather planted the cacao trees that she now harvests with her granddaughter and grandson.  Multiple generations of cacao farmers and the legacy continues.  
Erwin's cacao was planted much more recently in Costa Rica than Juanita's.  His farm is surrounded by farms that grow nothing but pineapple and is an oasis from mono-cropping.  Not only does Erwin have a healthy and thriving nursery of new cacao seedlings, but he has shade trees inter-planted with his cacao trees that will be another source of income when the cacao tree is older and not at it's peak productivity.  He grows black pepper, ginger and many other amazing plants.
Like any good cacao farmer, Erwin is never far from his trusty machete. It always amazes me how skillful cacao farmers are and the many different ways they use their machetes.