Celebrating Hispanic Heritage Month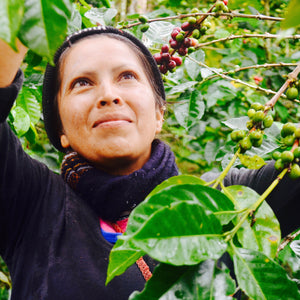 Celebrating Hispanic Heritage Month!
September 15 to October 15 is National Hispanic Heritage Month
The Library of Congress, National Archives and Records Administration, National Endowment for the Humanities, National Gallery of Art, National Park Service, Smithsonian Institution and the United States Holocaust Memorial Museum join in paying tribute to the generations of Hispanic Americans who have positively influenced and enriched our nation and society.
indi chocolate has worked with farming families around the world, with a central focus on countries in Latin and South America. According to the USDA census, over 50 percent of women in Latin America are farmers.  Without them, we would not have the amazing chocolate that we produce at indi chocolate. Below are a few of the amazing women we have worked with and their stories:
Olimar Ortiz Espinoza is an entrepreneur as well as being an amazing cacao farmer in Macas, Ecuador.  She is a vibrant woman, who convinced me to stay with her for a couple of days. Not only is she an amazing cook and mother she also harvests her cacao on her own and has started a cooperative center where she buys other cacao from farmers to ferment and dry. She has started producing her own chocolate bar called Selva Dorada,  which means gold jungle. Women like her are an inspiration!
Janneth Tobar Mera is a coffee farmer in Colombia by choice, her sister is an accountant. Her farm is biodiverse, with lemons, pineapples, bananas, and a beautiful garden full of herbs, tomatoes, and cuy (guinea pigs). On top of having some exceptional varieties of coffee: bourbon and geisha (gesha), she also has a research plot where she experiments with growing different varieties. 
I visited her during a trip to work with cacao farmers in Tumaco, She was very knowledgable about all her coffee plants and offered us an amazing cup of coffee and fried plantains in her living room. Arabica coffee doesn't grow in altitudes where cacao grows, but they are both found in many of the same countries. We serve direct-trade coffee as well as make chocolate in our Cafe in Pike Place Market. Come try out some unique varietals and ask our baristas about their favorite origins. 
Altair is an amazing woman, lawyer and cacao farmer in the Dominican Republic. She has studied English and went to law school but has decided to become a full-time cacao farmer. A brutal dictatorship displaced her family from their land in the 1960's, Altair was able to get some of the land back only just recently. She found 100 year old cacao growing there. She has implemented permaculture practices, growing cardamom, black pepper and avocado alongside her cacao.