The Life of a Cacao Farmer in Ecuador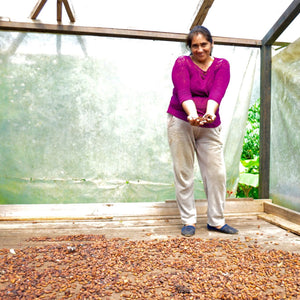 The history of chocolate is laden with the spirit of adventure and travel. From its birthplace in the Amazon basin, cacao has journeyed  to countries all around the world. The Inca empire hiked cacao through the Andes using it as currency and Christopher Columbus brought it to Spain to be consumed my the Spanish court. Quetzalcoatl a famed Aztec diety drank it with achote and spices as a powerful strengthening potion.
Within each cacao growing country each has their own culture, tradition and methods of consuming cacao. Visiting Ecuador and experiencing the lifestyle of a cacao farmer left a rich and memorable impression and taught me so much about the life of a cacao farmer.
Achote is a fruit that has a natural red dye.
What is the difference between a chocolate maker and a chocolatier?

 
A chocolate maker is someone who starts with the cacao bean, they understand the fermentation process, drying practices and determine roasting profiles before they even begin to make chocolate. A chocolatier is someone that makes confections, bonbons and truffles from chocolate that they melt down, they are not usually involved in the chocolate making process. 
At indi chocolate we go beyond just seeking high quality cacao, to us good chocolate means creating good relationships with the cacao producers.  We make sure that the cacao we use is both flavorful and farmers are paid fairly for their hard work. We source beans that are packed with amazing flavors and are cared for by incredible farmers.

Cesario Villalto and his wife Ines Brito are examples of very hard working farmers who grow, ferment and dry their own beans. I had the chance to stay with them for a couple days in their home and asked them if I could share with curious chocolate consumers what it was like to be a cacao farmer in Ecuador.
The longer I stayed with them the more I had the chance to try things I had never even heard of. Ines is an amazing cook,  she uses everything grown from their land.
At 6:00 am we start our day, for breakfast we ate eggs from their chickens, fried plantain called patacones, guayusa tea and so many fresh tropical fruits.
From 7:00am-12:00pm we walked through their eleven acres of very well kept land. It was so peaceful to walk through the forest with three tiny guard dogs.  We harvested plants that were ripe with our machetes, like oranges, onions, and pineapple. There were a few ripe cacao pods but mostly we were pruning trees. Cesario took me to the "pharmacy" to cure my bug bites. The tree called Sangre de Drago or dragon's blood is said to cure many things. When you cut its bark it bleeds red drops. He applied the sap to my big bites and by the end of the day the swelling and redness was gone.
At 12:00pm we went back to eat lunch. I wasn't even hungry because we ate so many things that we picked along the way. I love just sucking the juice from the orange or sucking on the baba from the cacao. Cacao fruit itself tastes a little bit like a lychee.

From 1:00pm-6:00pm we continued to do things around the finca harvesting fruits and pruning trees on the land. We would stop and drink fresh lemonade to keep hydrated and by 6:00pm we came back to shower, eat, relax and go to bed.
Cesario and Ines have a family filled with love and happiness, they spend their weekends playing soccer and volleyball, they go to church, and spend time with their grand kids. They have four children and have sent them all to school in a city nearby.

They have very few expenses, because they own their land. They buy; rice, soap, bread, oil, gas, salt and sugar. The average daily wage for someone in Ecuador is $12 and they have worked very hard so their children can go to school.
Due to the decreasing cacao prices in Ecuador, Cesario and Ines have considered giving up producing it. Some intermediaries are only paying only .30 cents per lb for their fermented and dried heirloom cacao.

With more and more direct trade chocolate makers on the horizon it is our job to bring pay a fair price to farmers.  Cesario and Ines can only have a stable income if the price for their cacao does not dramatically change. We want to support farmers like Ines and Cesario, who have such a beautiful relationship to their land and support a wage that allows them to send their children to school.
During my time in Macas, Ecuador, I stayed with a local bean to bar chocolate maker. She is a strong visionary named Olimar. She reminded me a lot of our founder Erin Andrews, a woman who dreams big and works hard.  I connected her to Cesario and Ines, because she is paying $1 per lb of cacao despite the fickle world market prices. She herself has been a cacao farmer for 15 years and is in the process of building her own factory.
I stayed with Olimar for a couple days as well, giving her advice on marketing her chocolate in Ecuador. She makes the best drinking chocolate and fried Yucca breakfast. I invited her to come to indi chocolate, I hope we get to see more of her for continued chocolate adventures. 
written by Becca Roebber, Marketing Director at indi chocolate