Cacao Roasting Seminar with John Nanci of Chocolate Alchemy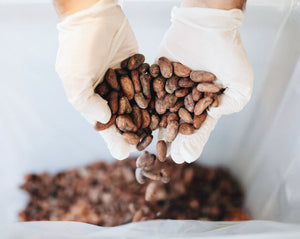 Learn to roast cacao from John Nanci: the godfather of the bean to bar chocolate making.
Located at indi chocolate in Pike Place Market
Photo taken by our founder, Erin Andrews, of John Nanci at a cacao farm in Brazil in 2018 during John's first trip to origin.
Cacao beans can be subtle yet complex, and roasting is an important step in flavor development when making fine flavor artisan chocolate.
Come learn about roasting cacao with the person responsible for the bean to bar chocolate making renaissance, and Founder of Chocolate Alchemy, John Nanci.
The seminar is geared towards professional bean to bar chocolate makers (of any size) with the intent to learn about drum roasting.  Current and aspiring chocolate makers are welcome to attend.  Previous roasting experience is helpful but not necessary.
The seminar will cover:
Theory and practice of roasting profiles and drum roasting
Hands on demonstrations and instruction
Developing and modifying roasting profiles for target flavors
Comparative chocolate tasting of different roast profiles
In depth questions and answers
The seminar will begin at 9AM. Please be on time.
Lunch will be provided. Please let us know about any food allergies or restrictions.
$385 per person
Thursday, November 7, 2019, from 9:00 AM - 5:00 PM  
https://chocolatealchemy2.myshopify.com/products/roasting-profile-seminar