Chocolate and Opera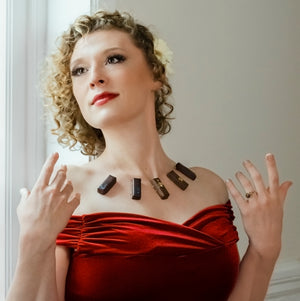 Join indi chocolate and the lovely Diana Aivia of Diva Synesthesia for a one of a kind experience of chocolate and opera. This synesthetic experience will pair chocolate and opera throughout the evening.  
At a Diva Synesthesia performance,
opera
singer and tasting guide Diana Aivia creates a multi-sensory experience for the audience through a delightful combination of music and flavor.
With Seattle Symphony harpist Valerie Muzzolini, Diana will perform a selection of beautiful songs and
opera
arias, each expertly paired with a chocolate that she has chosen to match the character and mood of the music. Diana describes how the flavors and the music interact, then sings as you taste. You enjoy the unique experience of a union between your senses - synesthesia.
By exploring this delicious sensory interplay, you appreciate each art form differently and more deeply. You can hear the chocolate, and
taste the music
!
Diana is a visiting artist this summer, so this is a one-night-only event.
She is currently based in Brussels, Belgium, and collaborates with beloved European bean-to-bar chocolate makers, artisanal spirit distillers, and fine winemakers on her music-tasting concept "Diva Synesthesia."
The program will include Indi cacao in multiple forms and creations, and a corresponding range of beautiful classical music from different time periods and styles.