Chocolate and Sake Pairing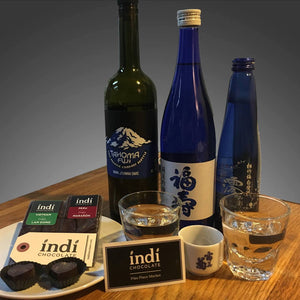 The combination of dark chocolate and Sake is super luxurious. Similar to how dark chocolate releases serotonin in the brain to make people happy, studies have shown that Japanese Sake also has health benefits like preventing chronic disease. With these last months of gloomy winter weather, we could all use an extra serotonin boost!
The event will be held in our gathering space on Saturday, March 3, 2019, from 3:00pm-4:00pm. 
Join us for a Chocolate and Sake Pairing to brighten your mood.
*Japanese Sake is an alcoholic drink. Must be 21 years of age with a valid ID to attend. Please drink responsibly.
Featured Guests:
Andrew Neyens, owner of Tahoma Fuji Sake Brewing Company, and Yuko Saika, who is certified in Sake tasting, will teach basic Sake information, explain Sake culture, and advise Sake combinations.
Learn how the unique origins of cacao we source at indi chocolate impact the flavor of the chocolate itself. All of our chocolate is 72% dark chocolate (soy, dairy and gluten-free).
Participants will take guided notes throughout the event to determine which combination is the best.
Included
We will provide three different dark chocolates from different origins, with a guided tasting.
2oz Japanese Sakes ranging from dry to sweet. The Japanese Sake will be hand-selected by Andrew and Yuko.
Tour of indi chocolate factory
Purchase tickets to this event here: Chocolate and Sake Pairing