Chocolate, Wine and Egg Freezing - An Educational Egg Freezing Event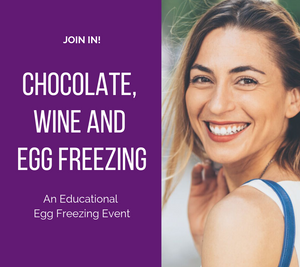 Maybe Shower
Join us at indi chocolate to l
earn more about options for controlling your fertility
on your terms.
Join other women for an informal talk about egg freezing.
Taste a bit of chocolate, sip on some wine, enjoy some h'orderves and see if egg freezing is right for you.
Learn from Seattle's top fertility medicine experts about:
• the benefits of freezing your eggs
• how the process works
• the costs involved
• who makes a great candidate

Meet Dr. Nichole Barker, Reproductive Endocrinologist, Lindsay Canning, ARNP, and Kenzi a Seattle Reproductive Financial Counselor! Also, meet past and current egg freezing patient, Mary Ann, to learn more about her first-hand experience.
They will be available throughout the event to answer all your questions about the egg freezing process, what to expect, costs and the possibility of insurance coverage, plus firsthand details from someone who has 'been there'.
Attendees will get a chance to win 1 of 3 free fertility assessments!
Winners will be notified after the event.
You'll not only learn about egg freezing, but about chocolate too! Enjoy an exclusive "after-hours" factory tour at the end of the event, plus all attendees will receive a special indi chocolate gift!
Bring a friend!
Parking: Validated parking after 5 pm in the Pike Place Market parking garage located below indi chocolate on Western Ave. (This offer is only valid for this parking lot.)
Presented by Seattle Reproductive Medicine.
$10 per person
Wednesday, October 2, 2019, from 6:00 PM - 8:00 PM 
Buy tickets here https://www.eventbrite.com/e/chocolate-wine-and-egg-freezing-registration-67589599311
#indichocolate #eggfreezing #eggfreeze #fertilitypreservation #socialeggfreezing #eggcryopreservation #futurefertility #freezingeggs #empowerwomen #seattleeggfreezing #southlakeunionseattle #portagebaycafe #amazonlife #microsoftlife #youngprofessionals #amazonspheres #amazonworklife #seattleculture #sluseattle #slusea #facebooklife #seattleevents #seattlereproductivemedicine #seattlefertility