indi chocolate Molé Sweet Rolls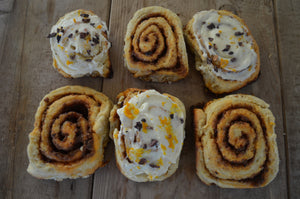 We love our Molé Spice Rub and the many wonderful ways to enjoy it.
This is a great treat enjoy a new take on Sweet Roles.  We've even tried it with some Molé Spiced Bacon sprinkeled over the top to combine the sweet and savory side of cacao. Yum!
These Molé Sweet Roles are a real crowd pleaser.
Enjoy! 
Ingredients for indi chocolate Molé Sweet Rolls:
1 cup lukewarm milk
2 large eggs, at room temperature
1/3 cup unsalted butter, cut up
4 1/2 cups all purpose flour
1 3/4 teaspoons salt
1/2 cup granulated sugar
2 1/2 teaspoons instant or active dry yeast
1/3 cup unsalted butter, softened
1 cup brown sugar, packed
3 tablespoons indi chocolate Molé Spice Rub
1/4 cup indi chocolate cacao nibs
Ingredients for indi chocolate Maple Cream Cheese Frosting:
6 tablespoons (generous 1/3 cup) cream cheese, softened
1/4 cup unsalted butter, softened
1 1/2 cups confectioners' sugar
1/2 teaspoon vanilla extract
indi chocolate cacao nibs (for garnish)
orange zest
Directions for indi chocolate Molé Sweet Rolls:
Mix together in a bowl by hand or with mixer, milk, eggs, butter, flour, salt, sugar and yeast to make smooth soft dough.

Place the dough in a lightly oiled bowl, turn to grease all sides, cover the bowl, and let the dough rise for 60 minutes, or until it's nearly doubled in bulk.

In a separate bowl mix together, brown sugar, indi chocolate Molé Spice Rub, butter and indi chocolate cacao nibs