10 Reasons to Drink Golden Mylk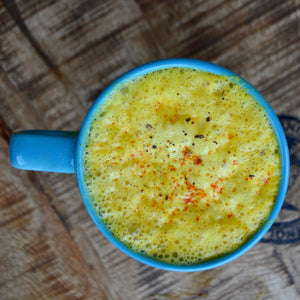 This January we have been experimenting with healthy cacao potions using ingredients that are said to have healing properties used in Chinese medicine and Ayurveda practices. For those who are trying to stay warm this winter, Golden Mylk is a great remedy, we developed our recipe from traditional Ayurvedic recipes. We use ingredients like cayenne, ginger and black pepper for a warming sensation, great for this gloomy winter.
What is Golden Mylk?
Golden Mylk does not have any dairy at all! We make it with coconut milk, which is said to help build muscles while reducing fat. We love it for its creamy texture. The main ingredient in Golden Mylk is Turmeric, which gives it a golden color.
10 Reasons to Drink Golden Mylk
Cinnamon is an ingredient we add to golden mylk because of its delicious flavor, but also because it is said to have antioxidants and anti inflammatory properties. 
Cayenne is said to help aid digestion by stimulating enzyme production it also simultaneously stimulates circulation which helps to detoxify your body and increase your metabolism.
Black Pepper is often paired with turmeric and other herbs to increase absorption of beneficial nutrients and vitamins.  
Maca is high in antioxidants and nutrients such as iron and vitamin c. Maca comes from a root found in Peru. It is said to improve mood and sexual libido. Maca is an adaptogen which does not alter moods, but helps the body function at its highest capacity when put under stress.
Cacao is our secret ingredient, shhhh! We basically add it to everything. Cacao is a superfood, high in antioxidants. It is said to be a cancer fighting food, it blocks free radicals that cause cancer in the body.
Turmeric is the golden ingredient in this drink, it supports a healthy inflammatory reaction in the entire body. Overall turmeric is said to maintain vitality in the body.
Ginger is a diaphoretic, meaning that it promotes sweating and warms the body from the inside out. Ginger is very helpful for getting over a cold. 
Helps boost immunity. Golden mylk is said to boost immunity with antiviral properties found in turmeric. Traditionally used to help with a cough or cold or if you are prone to picking up colds.
Caffeine free. If you are looking for an alternative to coffee or tea, golden mylk is a good substitute. This spicy beverage will get your blood flowing.
Tastes delicious! Last but not least our golden mylk tastes delicious. Come visit us at indi chocolate and see for your self.
Best times to enjoy Golden Mylk
On a rainy day
With a friend
Before bed to help digestion
In the morning to replace coffee
At indi chocolate!