2017 in Review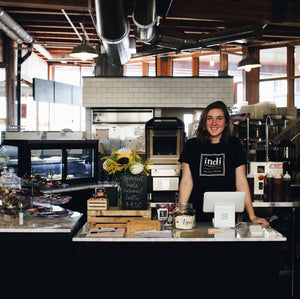 2017 has been a year of big changes for indi chocolate. We transitioned from our cozy space in Pike Place Market to our very own Chocolate Factory and Cafe in the new MarketFront. There was a lot of hard work and people involved to get our doors open in the new MarketFront and we have a lot of thanks and gratitude to give. 
The new Pike Place MarketFront groundbreaking happened in June of 2015. We waited patiently for our turn to start construction of our new Chocolate Factory, Cafe and Gathering Space.  
We had some surprises along the way with construction both good and bad. Yes! We have space for a cooling tunnel that we never planned for - think I love Lucy and you'll know what we're talking about. There were many complications with construction that we had to overcome, like leaking and construction delays, but we are finally open and so happy to be in the new MarketFront alongside some other amazing businesses.
We are still a small family owned and operated company, we just have a bigger team and a bigger location to play in. We are getting pretty creative with both coffee and chocolate these days and keep exploring new ways to use them.
We have been fortunate to pull in some talented team members during our expansion,  including people from all over the world, bringing in new ideas and experiences. Coffee is a new venture for indi chocolate, and our Cafe Manager, Kala, brings a wealth knowledge to our team.  Come into indi chocolate and introduce yourself to the team, we would love to meet you!
Having a team of creative baristas has packed our menu with amazing drinks beyond our wildest imagination. We have been having lots of fun creating drinks, like our Molé Caramel Latte, Spicy Drinking Chocolate and our very own Pumpkin Spice Latte, with real pumpkin. We make homemade syrups, using vanilla we source directly from farmers and syrups from our Mint, Rose and Orange Teas.  We will continue to change up our drink menu with new additions and seasonal favorites so make sure to stop by and try out our newest specials.
We finally have our chocolate factory behind glass in Pike Place Market that we have long been planning and designing for so many years.  We are now offering hands on chocolate classes, parties and events in the factory and are now making a lot more chocolate than we were able to before.  We have new origins of chocolate in the store or online for you to check out too!
Opening the new Factory was not our only accomplishment this year, we also did some sourcing to Nicaragua, Dominican Republic and Ecuador. Check out our blog to read more about our direct trade cacao sourcing stories. Beyond sourcing we also traveled, taught and exhibited in the Big Chocolate Show in New York City , Chocoa in Amsterdam, Salon du Chocolat in Paris and the Northwest Chocolate Festival in our city of Seattle.
If you want to read more about our build out or happenings in 2017 check out some of these articles. Thrillist, Eater, Sprudge, Seattle Refined and even the Washington Post had some nice mentions.
What will 2018 bring?
January we start the "thaw" as we welcome everyone to some of our experience based classes and events.  We had a Boozy Hot Chocolate Bar with over seventy attendees and are planning some really fun and creative events.  The Gathering Space of our cafe is about bringing community together.  Throughout the year we plan on having unique events that showcase our chocolate, coffee and creativity.
2018 is a milestone for founder Erin Andrews, who will have been making bean-to-bar chocolate for ten years. All the research, travel and hard work has resulted in a space where we can be innovative and creative together in the Seattle community.
We are looking into offering trips to origin for our guests. Contact us if you are interested and we'll be sharing more of the details shortly.
We will be working on sourcing beans from new origins and developing new products too.
We want to thank all of our customers for their support. We are appreciative of your feedback and encouragement. We wouldn't be here without you. We want to wish you a most wonderful 2018!
Thank you from all of us at indi chocolate!
Written by Erin Andrews, Founder of indi chocolate