Absinthe Brasserie Tasting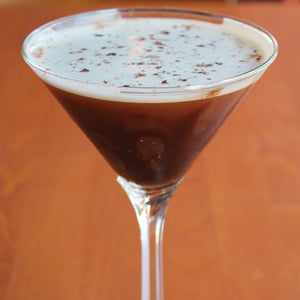 Our friends over at Absinthe Brasserie in Belltown kindly invited us to an absinthe tasting earlier this week, where we had the opportunity to try a variety of absinthes and different ways to drink it!
We tried everything from classic absinthe served in funky ways like water poured directly over the sugar cubes at the table to absinthe cocktails such as the Wondermint Chocolate Martini which features a Chocolate Liqueur using our chocolate!
Once we started to feel it all go to our heads, we were delighted with treats from the kitchen to balance it out. The sweet potato fries were a favorite among all of us, dusted with a little cinnamon and served with a house-made barbecue sauce. With the fries came their Chicken Fried Bacon, Hush Puppies and Fried Pickles. Finally for dessert, we munched on Beignets! Rumor has it they are going to put our Molé Spice Rub on them too.

Join them for a special event from September 11th to the 13th where you'll find unique menu items using indi chocolate products! Starting at 2pm for Happy Hour and continuing into the dinner hours you can try a Chocolate and Bacon Sampler. In this you'll get their Chicken Fried Bacon dipped in our chocolate, Pork Rinds dipped in our chocolate and topped with pecans, as well as Pork Rinds topped with our Molé Spice Rub. Once dinner hours kick in at 5pm, their additional menu items will include a Duck Breast smoked in our Lavender Tea then sautéed in our Molé Spice Rub served with Collard Greens and Roasted Carrots in a Balsamic Chocolate Syrup.
Make sure you save room for dessert because they will be serving Beignets with a Coffee Chocolate Sauce!
A huge thank you has to be made to Absinthe Brasserie for such a lovely tasting! Definitely go out and support our local friends for this amazing lineup!