Birthday Parties at indi chocolate!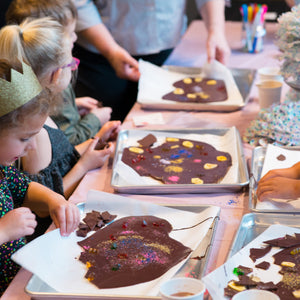 Did someone say party!? Our Chocolate for Youngsters class is one of our most popular classes at the indi chocolate factory and the kids really enjoy it. They get to spend time in our chocolate factory learning about the world of cacao and chocolate. They make their own chocolate creations to take home and have fun all while doing it!
It can be stressful planning the perfect birthday party for your kid; from decorations to invitations to games and food!? We want to make your life easier by having your kids next birthday party at indi chocolate. Watch your child's face gleam with excitement as they learn to make chocolate bark and add their own fun toppings! All the while they get to enjoy warm drinking chocolate with toasted marshmallows.. Yum!
Contact us at classes@indichocolate.com for your next birthday party and check out the rest of our classes! We welcome larger parties for any of our classes, kids or adults.