Chocolate Exposed - indi chocolate & Tulalip Resort Casino Collaboration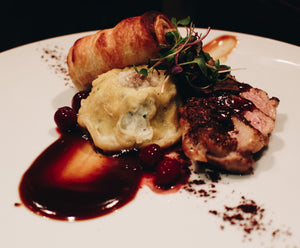 We met with Executive Chef Perry and his 8 restaurant and pastry chefs earlier this year to discuss more about chocolate.  Based on these discussions, Tulalip Resort Casino decided to feature indi chocolate in all of it's restaurants for February and March.
Tulalip Resort Casino was kind enough to invite us to taste their wonderful chocolate creations, using indi chocolate's wide range of cacao based products. Each chef did an amazing job at highlighting indi chocolate Spice Rubs, Teas, cacao nibs, chocolate and more.
They will be serving these dishes through February-March 2017 and some of the chefs are considering integrating their dish into the menu permanently! Check out all eight of Tulalip restaurants featuring indi chocolate products.
Since we're crazy about chocolate, we opted to start with dessert! Executive Chef Perry brought us a delightfully Warm Chocolate Cobbler with cacao nibs served at Cedars Cafe. 
Next up was the Cedars Cafe Chicken Molé Torta featuring our molé spice rub with coleslaw and rice. The dishes were already off to a great start.
We walked over to Canoes Carvery to try the Jamaican Chicken Spinach Salad with cacao Jamaican Jerk rubbed chicken, baby spinach, lavender chocolate cacao nibs vinaigrette.
We were delighted by the chocolate vinaigrette at Killer Coffee, a great way to spice up your greens in their to-go salads.
Our next stop was at The Draft, a sports pub style restaurant that had all of the games playing on the TVs. Here we ate the Deconstructed Cocoa Spice Rubbed Flank Steak Sandwich with cilantro sour cream, coleslaw, and pico de gallo. This is the perfect meal for watching sports, nice and hardy but packed with flavor. 
Nearby was Journeys East, an Asian fusion restaurant. Here we ate an amazing dessert, the Warm Chocolate Fondant Cake with ginger whipped cream, fresh raspberries and crispy wantons. It wasn't your typical dessert, but rather a complex savory experience with a hint of spice coupled with sweetness from the chocolate. 
We weaved our way to the Eagles Buffet, admiring the sparkling casino ceiling and listening to the sound of slot machine winners. The rows and rows of food were astounding, even more so were the Pork Ribs seasoned with our BBQ spice rub and topped with a decadent chocolate BBQ sauce!
Next up was another main course dish at the swanky Tulalip Bay restaurant.This Cocoa-Citrus Tea Smoked Duck Breast meal was our favorite! The duck was cooked to perfection and smoked with our Chocolate Orange Tea. It was then drizzled in a fantastic chocolate reduction along with a ravioli filled with warm chocolate and accompanied with fresh black truffles, pickled cranberries and puff pastry stuffed with foie gras. The flavors and textures couldn't be more enjoyable.
After indulging on the spectacular main course dish, we ended our time at Tulalip Bay with a glass of delicious wine and the Indi Cacao Infused Amaretto Zabaglione. This decadent custard dessert had a great balance of chocolate and amaretto along with creamy and crunchy. 
With barely enough space in our stomachs, we made room for a lovely dinner at Blackfish. Here, we ate a perfect Chocolate Crusted Filet Mignon accompanied with a 48 hour demi-glace reduction, savory scalloped potatoes, spaghetti squash, broccolini, and a carrot puree as garnish. Chef David was kind enough to join us for dinner to explain how he created this magnificent dish. Not only is he an amazing chef, he also is a great resource for other chefs and eagerly shares his knowledge.
"I chose the Amazonas roasted bean because of its complex savory notes. Biting into it was similar to experiencing a wine tasting. Beyond the obvious chocolate flavor, we also got hints of whiskey, caramel, leather and other nuances of flavor. I thought that these would pair nicely with the mild beefy flavor of a fillet Mignon."
The wonderful staff at Tulalip Resort Casino made us feel right at home and we couldn't turn down the indi chocolate nib infused cocktail at Blackfish either. Boy are we glad we tried it. Delightful!
Along with the main course, we snacked on a salmon flight, crab cakes, and local oysters, before finishing up with indi chocolate Cacao Nib Churros. The warm doughy sugar pastry complimented the chocolate dipping sauce and ended the perfect evening of food!
A huge thank you to Tulalip for the invitation and hospitality! We couldn't ask for a better a better team to collaborate with. Be sure to make plans to visit Tulalip Resort Casino soon! You won't want to miss out on this culinary experience! 
We're looking forward to going back for more...