indi chocolate is building a Chocolate Factory!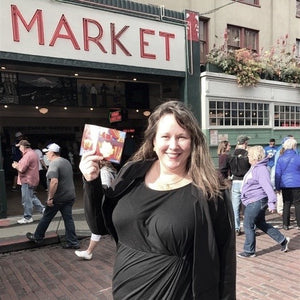 indi chocolate is building a chocolate factory! 
Pike Place Market is finally replacing part of the Market that burned down in the 70's and indi chocolate is a part of the rebuild. We will be opening the very first bean-to-bar chocolate factory in Pike Place Market. You will be able to come and watch your chocolate being made from the cacao bean.
indi chocolate sources cacao beans directly from farmers to make small batch, single origin,
dark chocolate
. We make a wide range of cacao based products including
tea
,
spice rubs
, and
body care products
made from cocoa butter.
Come experience a whole new world of chocolate. Watch your chocolate being made and enjoy ethically sourced chocolate from around the world. Enjoy indi chocolate drinks and other creations in our cafe and join us for a wide range of classes.
We are so proud of founder Erin Andrews for working so hard with our architects to come up with the layout of our new space.
We asked Erin Andrews, founder of indi chocolate to tell us her favorite part of opening a spot in Pike Place Market:
"I came into Pike Place Market 4 years ago to be a part of the "meet the maker" community that was the foundation for starting the Market in 1907.  Opening in the Market Front allows everyone to watch how our chocolate is being made, allows us to increase our educational offerings, and finally bring the drinks customers keep asking for (and I keep dreaming about making) to the Market.
What has been your biggest challenge?
The biggest challenge in our current location has been how difficult it is for customers to find us.  We had to put more clear directions on our website but we still get calls from people that have been unsuccessfully searching for our store. The first thing we ask them is "what signs do you see"  and then help them navigate their way into the store.
Come visit us before we move:
Visit us on the 5th floor in Pike Place Market, past the fish throwers and down the ramp from Uli's Sausage. Follow the "lower floor" sign down the ramp and we'll be at the bottom of the ramp on your right side.