MarketFront Grand Opening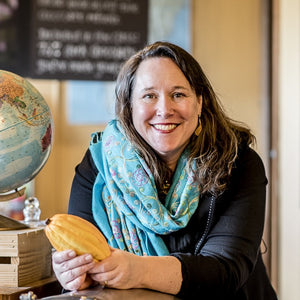 I've been in the chocolate industry for ten years now, and I've loved both chocolate and coffee for as long as I can remember. Pike Place Market's long history of bringing the producer to the consumer was the reason I first came into the Market, four years ago. I wanted to produce chocolate where everyone could watch it being made, from the beans we source to their finished chocolate bar.
During the past four years in Pike Place Market, our customers have asked us time and time again to serve hot chocolate, or mochas, or other coffee-based drinks. Our new MarketFront location within Pike Place had to combine a chocolate factory meant for all to see, as well as a cafe in one of the world's most famous cities for coffee. Thanks to the fact that I've been making bean to bar chocolate since 2010, designing our chocolate factory was a lot easier than designing the cafe.
I wanted every element in our new location to help tell the story of chocolate, and our cafe does that perfectly.
I've traveled around the world from the tropical countries where cacao beans (what we make chocolate from) first grew, to the busiest port and trading cities (Amsterdam and New York) for cacao. I've spent time in the first stock exchange in Amsterdam, where cacao beans were first traded in Europe, and many world famous chocolate factories and shops around the globe. Along the way, I've tried to better understand the different influences that have shaped chocolate and bring these to the design of our new chocolate factory and cafe.
The wood timbers and crazy angles of the new MarketFront building in Pike Place complement both the Market's past and the Northwest's logging history. The views out the windows reveal cargo ships arriving, laden with goods from around the world like our next shipment of beans.
The metal and glass doors that welcome you to our factory are influenced by the chocolate factories where chocolate equipment advances blossomed during the Industrial Revolution. This Revolution was what finally led to an efficient way to extract cocoa butter from the cacao bean, and make the smooth and creamy chocolate bars that we all recognize and adore.
The chocolate making machines within our factory all have stories of their own, which include our friends who have designed and improved the machines to make the best chocolate possible. It's a daily reminder to us of how fortunate we have been, to be in the forefront of the bean to bar artisan chocolate revolution that is moving across the globe.
The black raised panel cabinets in our cafe are inspired by the chocolate shops of Paris and Belgium, both places that are well-known for their extraordinary creations with chocolate. The white marble counter tops give a nod to the Italian heritage of the stone, in addition to the Italian influence in both coffee and chocolate. Marble and stone have been used in chocolate making from the very beginning, originating in rudimentary Central American machines and transforming into the revolutionary equipment we use today. Our espresso machine from La Marzocco continues the Italian narrative of that influence, with a nod to their Seattle headquarters where we've been training to create fantastic espresso shots that pair perfectly with our chocolate.
Another big part of the design and influence for our new MarketFront location is our large, custom-made table. I was a stay at home mom for seven years before becoming a chocolate maker. Time outside the workforce instilled in me the importance of community, coming together, and education. The large table where we gather was custom made just for us by Waylon Robertus from Montana Ironworks, who was a classmate of mine at the Goldman Sachs 10,000 Small Businesses Program. Waylon heard me talk about my desire to have every element in our new space speak to the history and story of chocolate. He heard about how cacao beans are moved around the world in shipping containers, and on the iron rails of railroads that connect cacao farmers to factories, stores, and chocolate lovers. Thanks to him, Montana Ironworks was able to take that inspiration and deliver it to us in a table that brings people together for the enjoyment and education of all things coffee and chocolate. The large table is now part of our cafe and will also be used for tours, classes, and special events.
Teaching my children how chocolate grows on trees is what inspired me to become a chocolate maker nearly ten years ago. Now, our chocolate factory and cafe will nourish, teach, and inspire others on their own journeys, right in the heart of Pike Place Market. Welcome to the MarketFront!