Cacao Farmers that Make Chocolate!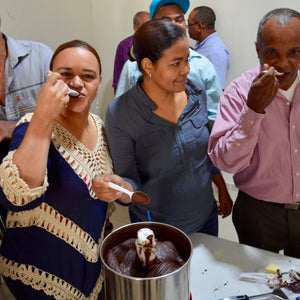 Working with cacao farmers is one of my favorite parts of working at indi chocolate. We've always feel treated with amazing hospitality and learn so much from the farmers I work with.  The exchange of knowledge and experience never seems fair, because of how enriching the experience is for me.
I would like to think that the people I meet along the way get to learn from our time together as well. The dialogue I usually have with farmers is more about making connections with chocolate makers, basic marketing skills, and the post harvest processes (fermentation and drying practices).
This last trip to the Dominican Republic, farmers were really excited about the idea that they could make their own chocolate at home with cacao that they grew themselves. I gave a demonstration of how to make chocolate using the same chocolate refiner that we use in our factory in Pike Place Market. People were so excited that they couldn't remain seated.
Many farmers already know how to make chocolate, roasting cacao over the fire, winnowing the beans by hand, and using a molino, a hand grinder, to grind the beans into a paste. This is a very laborious process and also makes the texture of the chocolate grainy. It is delicious in it's own way, but very hard to compete with companies that have equipment for making chocolate.
It is exciting to me to see that farmers have a real interest in pursuing chocolate making in the country of origin. I am not the best chocolate maker out there, in fact I wouldn't call myself a chocolate maker at all, it's more like an episode of I Love Lucy, but I can use the Chocolate Refiner to teach the basics of making chocolate.
The cacao farmers were timid at first to jump in and participate, but my favorite part is learning from them once they start sharing their personal tips and tricks for making chocolate. We start talking about the best ways to roast beans and they all discuss it with each other and I learn a lot in the process.
By the end of the demonstration I had farmers putting in orders trying to buy machines to use at home. Diamond Custom Machines, the manufacturer of the Chocolate Refiner was kind enough to donate this machine for the organization that works with the cacao farmers so they can all work with it.
Written by Becca Roebber, Marketing Director
Interested in traveling with us to origin?
Email me about upcoming opportunities at becca@indichocolate.com
Want to try chocolate made with beans from the Dominican Republic?
Check out all of our single origin chocolate bars here.
Want to learn more about making chocolate at home?
Check out our machines blog to find out more.