The Chocolate Refiner: Frequently Asked Questions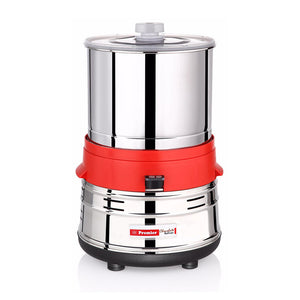 Thinking about making bean to bar chocolate? Maybe you already make chocolate, but are frustrated with your current machine? We get more and more people asking us about our Chocolate Refiners and we want to help you find the machine that is right for you!
What's the difference between a Grinder and a Chocolate Refiner?


The traditional/non-upgraded machines have been traditionally used for rice grinding and are referred to as "Grinders."  Rice Grinders are used, at most, a few hours a week on average.  That's part of the reason why these machines should be upgraded if you want to use it for making chocolate because Rice Grinder warranties do not include chocolate making.
Chocolate making requires a much longer time to refine and has cocoa butter that requires extremely dry conditions.
Many people have already discovered that the best Grinder for making chocolate is the Premier Wonder Grinder.  We discovered that too, but realized that there were improvements we could make on this machine to help increase its function, durability and capacity. Also, the warranty on the Grinder does not cover chocolate making.


Why should I upgrade my Grinder to a Chocolate Refiner?
Upgraded machines specific to making chocolate are called "
Chocolate Refiners
." We've made them more robust by adding several upgrades including more robust gears, fully sealed ball bearings (important when working with cocoa butter), better materials for the stone holder, long wearing belts and an excessive heat shut off switch for peace of mind with long running machines.  
Basically, we talked with other chocolate makers to get their suggestions on what improvements to make, looked at what was being replaced and how often. The result is a much better machine for making chocolate that we love and use every day.
We work with many chocolate makers and constantly look for ways to further improve our Chocolate Refiners.  We are always working on improvements so the list of upgrades will continue to increase.
What parts should I order for replacing parts in my machine?


For Replacement Parts, we have 3 sizes of machines which include:
We make these distinctions because people who have bought the non-upgraded
Premier Grinder
versions are generally looking for the more robust replacement parts that we've used for the Chocolate Refiner upgrades.
Where can I buy replacement parts?
Check out our extensive list of replacement parts.

What if I am looking for a Commercial Size Chocolate Refiner?


We do sell Commercial Size Chocolate Refiners, but we do not list the Commercial Refiners prices online and ask that customers contact us for pricing and additional details or questions. We are constantly making improvements on our Commercial Refiners too and have different options, that's why we ask you to contact us about price.
What else can I do with the Chocolate Refiner?

We like to bring the Chocolate Refiner with us to festivals and events. We use it to sample out chocolate. It is an economical and effective way to sample out chocolate to many different people and you don't have to spend the time tempering it beforehand.
We also love to make nut butters and tahini in these machines. To grind nuts in The Chocolate Refiner you will want to start out with nuts no larger in size than cacao nibs. The nut type will impact how long they take to refine.  Generally, if they are very oily it takes less time. It is recommended to refine between 1 and 6 hours.
Are you coming to a show we will be at?  If so, let us know. We try to bring extra Refiners for sale but they go quickly. It is possible to pre-pay ahead of a show so that we can have your Refiner ready for you to take from the show. Please contact us to arrange.
What about shipping?
We ship the Chocolate Refiner all around the world.  
For international shipping costs will be calculated when you place your order. These prices do not include import duties, international taxes and fees.