indi chocolate dark chocolate brownie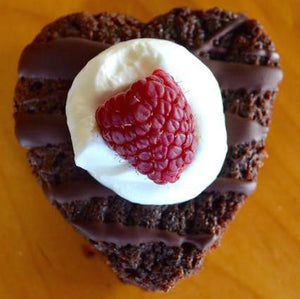 Ingredients:
1 1/2 sticks unsalted butter
1 1/3 cup all-purpose flour
1 teaspoon baking powder
1/2 teaspoon salt
2 cups sugar
4 large eggs
1 scraped pod of smoked vanilla
1/2 cup indi chocolate cacao nibs
2 pinches finishing salt
Directions:
Preheat oven to 350 degrees F.  Butter a 9×13-inch baking pan or heart shaped pans
Whisk together flour, baking powder and salt and set aside
Place butter and indi chocolate, chopped in a double boiler 
Stir until chocolate and butter are completely melted.  Use pot holders to remove the bowl from over the boiling water. Lets mixture sit for a few minutes
In another bowl, whisk together sugar, eggs, vanilla and indi chocolate cacao nibs together 
Pour the chocolate mixture into the egg mixture and whisk
Add the flour mixture all at once and whisk 
Pour into pan and sprinkle pinches of salt on top
Bake for 30 minutes, or until a skewer inserted in the center comes out clean
Let cool and top with whipped cream and fresh berries
Enjoy!
---
Also in Recipes