4th of July Tart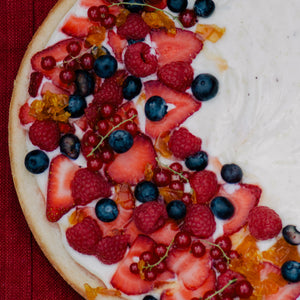 The Fourth of July is a time for celebration, for gathering with your loved ones and enjoying the moment. Fireworks, sparklers, barbecues and of course, the color scheme of red, white and blue! Whatever your plans are for the 4th, this is a recipe that will bring a touch of sweetness to any gathering. Summer is the perfect time for fresh fruits and if you live in the Pacific Northwest strawberries and blueberries are abundant right now! Let's be real, dessert is the best part of any meal. Surprise your friends and family with this super easy to make tart that will brighten up the table.
To make life super easy, we used a package of premade sugar cookie dough. If you're an overachiever or just have a favorite sugar cookie recipe, you do you and make that instead! If don't have enough time in the day, store bought dough will work just fine. The key in this recipe is the decoration and that is what will impress the crowd. Don't worry we will give you some tips on how to make your 4th of July tart pop!
We decided to go with really bright reds and blues for the fruit. Use your own creativity and choose whatever fruits jump out to you! *Also note that we kept the red currants on the stems for the photo, but we would advise removing them from the stem so it's ready to eat.*
Ingredients
Vegetable oil
Package premade sugar cookie dough (or favorite sugar cookie recipe)
1 can of sweetened condensed milk
2 rounded tbsp indi chocolate Orange Tea
1 tsp lemon zest
½ cup lemon juice
½ cup sour cream
Fruit for topping;
Strawberries, blueberries, red currants
Instructions
Preheat oven to 375.
Spray a 9" springform pan with vegetable oil and line with parchment paper.
Press sugar cookie dough in the bottom of the pan in an even layer.
Cook for 10 minutes, or until golden.
While that's cooking, prepare the tart filling.
Pour condensed milk into a small saucepan with indi chocolate Orange Tea

.

Place on stove over medium low heat, this is just to infuse the milk with the flavors.
Strain the condensed milk mixture through a fine mesh strainer into a bowl.  
Add sour cream, lemon juice and zest into flavored milk.
Stir until thickened.
Refrigerate 20 minutes.
While both the filling and cookie crust are cooling, prepare the toppings.
Slice the strawberries into thin slices.
Cut the blueberries in half and leave some whole
Once the crust and filling are cooled, spread the filling in an even layer over the crust.
Top the tart with fruit in whatever design that you feel inspired to do!
Tip

: layer the strawberries and blueberries first and lay the currents on top, keep layering the fruit so there is a lot of dimension. We did a half moon shape, but you can cover the entire top of the tart or choose a pattern. Whatever you do it will be beautiful!
Grab some sparklers, head to a party and enjoy with friends.