Spicy Pumpkin Pie with Cacao Nib and Ginger Crust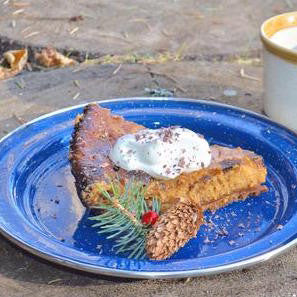 Ingredients:
Gingersnap and Cacao Nib Crust:
12 oz gingersnap
2 Tbsp maple syrup
2 Tbsp indi chocolate cacao nibs
1 tsp ground ginger
1 tsp ground cinnamon
1/2 cup (1 stick) unsalted butter, melted
Barbecue Pumpkin Custard
1 (15 oz) can pumpkin puree
2/3 cup granulated sugar
2 Tbsp maple syrup
2 tsp grated ginger
1/4 ground cloves
1/2 tsp fine sea salt
1 (14 oz) can sweetened condensed milk
2 large eggs
1 large egg yolk
1/2 tsp pure vanilla extract
Vanilla Bean Whipped Cream
2 cups heavy whipping cream
1/2 cup sugar
1 vanilla bean scraped
Directions:
Make the gingersnap crust: Preheat the oven to 350 degrees F. In a food processor, pulse together gingersnap cookies, maple syrup, ginger, and cinnamon. Pour in melted butter and pulse until combined. Mix in indi chocolate cacao nibs.
Press crust into an ungreased 9-inch pie pan and bake for 8 min.
Make the Barbecue Pumpkin Custard: Heat the pumpkin, sugar, maple syrup, ginger, cloves, and indi chocolate Barbecue Spice Rub over medium heat, stirring consistently, until the mixture is smooth and glossy, about 5 min.
Remove from heat and slowly stir in the condensed milk, whisking until completely combined. Whisk in eggs and egg yolk, one at a time. Stir in vanilla. Add to pie crust.
Bake for 30 min or until the edges of filling are just starting to set. Turn the oven down to 325 degrees F and bake for another 20 min until filling is set.
Remove from oven and let cool for 2-3 hours.
Garnish with whipped cream and shaved 72% indi chocolate.
Enjoy!