Gingerbread Cacao Nib Cake with Bourbon Maple Glaze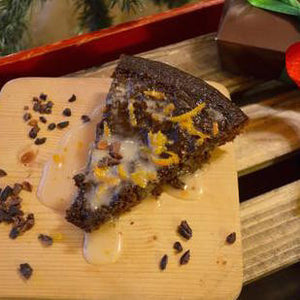 Ingredients
Gingerbread Cacao Nib Cake:
1 1/2 cups all-purpose flour
1 teaspoon ground ginger
3/4 teaspoon ground cinnamon
3/4 teaspoon kosher salt
1/2 teaspoon baking soda
1/2 teaspoon baking powder
1/2 cup (1 stick) unsalted butter
1/2 cup light brown sugar
1/2 cup light molasses
1 large egg
1/2 cup indi chocolate cacao nibs
2 Tbs freshly grated ginger
Maple Bourbon Glaze:
1 cup powdered sugar
1 Tbs orange zest
1 Tbs maple syrup
1 Tbs cacao infused bourbon
1 Tbs juice from orange
1 tsp vanilla
2-3 Tbs water
Directions
Gingerbread Cacao Nib Cake:
Preheat oven to 350 degrees. Coat pan with butter or nonstick spray
Whisk together flour, ground ginger, cinnamon, salt, baking soda, and baking powder
Place butter in a separate bowl and pour in 1/2 cup boiling water, whisk until mixed
Whisk in sugar, molasses, egg. Add dry ingredients and whisk.
Add indi chocolate cacao nibs and fresh ginger
Bake for about 25 min
Bourbon Maple Glaze
Mix together ingredients until all lumps are gone
Drizzle over Gingerbread Cacao Nib Cake once it is cool
Enjoy!