Avocado Pie with Cacao Nib Crust with Coconut Chai Tea Cream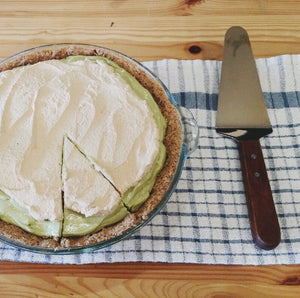 Avocados and cacao have something in common, they are both misunderstood fruit. Most people don't know that both cacao and avocados grow on trees, in a much warmer climates that bare beautiful, nutrient rich, fruits! So let's make a pie to celebrate!
This pie essential has three separate layers: crust, filling and cream. Because each layer requires chilling or cooling, we recommend beginning by steeping and chilling the cream, baking the crust, making the filling, and then finishing up by whipping the cream. You can even do the chilling overnight and finish the cream layer the next day.
Ingredients:
Crust
Filling
3 medium-sized ripe avocados
8 oz cream cheese, room temperature
14 oz sweetened condensed milk
1/3 cup fresh squeezed lime juice
pinch of salt
Cream
1 cup heavy cream
1-2 Tbsp. indi chocolate chai tea
2 Tbsp. powdered sugar
1 tsp. vanilla extract
Directions:
Pour cream into small saucepan and add loose tea. 
Slowly heat cream to just below boiling, stirring constantly. Remove from heat, continue to stir gently for 2 minutes.
Pour cream through fine strainer into small bowl and chill. Tip: stir cream with a fork occasionally as it cools to minimize skin forming.
While cream chills, preheat the oven to 325°F
Pulse cacao nibs in food processor (or clean coffee grinder) until pieces are of a similar size to graham cracker crumbs.
Whisk sugar, graham cracker crumbs, and cacao nibs in a bowl; pour melted butter on top and stir with a spatula until combined. 

Press the mixture into a 9 or 9 1/2" pie plate and bake for

 10 minutes. 

Remove from the oven and set aside to cool.

While crust cools, begin making filling. Halve, pit, and scoop out avocado flesh into a large mixing bowl; add cream cheese and beat until smooth.

Add lime juice, sweetened condensed milk, and salt to avocado mixture and beat until smooth. 

Pour filling into cooled crust, wrap tightly with plastic wrap, and refrigerate for at least 5 hours. 

Now that the filling has set, it's time to finish the cream!! Remove any skin from the chilled cream and whip with

 powdered sugar and vanilla extract in a mixing bowl until stiff peaks form.
Remove plastic wrap from pie and gently spread cream on top with a large spatula. 
Serve and enjoy!