Cacao Nib Biscotti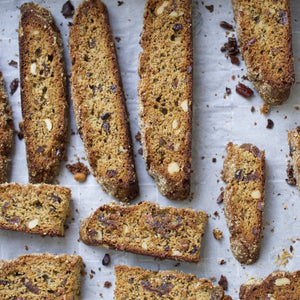 Biscotti are crunchy Italian almond cookies. They are the perfect sidekick for your hot beverage. Enjoy them in the morning with your cup of joe or as an afternoon snack after a long day. The crunchy and chocolaty combination of the cacao nib biscotti will make your day even better!
Ingredients: 
2 cups almond flour
1/4 cup sugar
1 Tablespoon baking powder
2 eggs
2 Tablespoons of indi chocolate Cacao Nibs infused with coconut oil
2 Tablespoons chopped walnuts
2 Tablespoons dried apricots
Topping
Directions:
Infuse coconut oil with indi chocolate Cacao Nibs for at least 3 days, stir occasionally. The coconut oil needs to be fluid for the infusing, melt the coconut oil by:
placing the coconut oil and nibs into a yogurt maker
place coconut oil outside in the sun during the day
melt coconut oil in a pot and leave it at lowest heat when you're at home
place the coconut oil in a warm spot in the kitchen
Preheat oven to 350 F
In a large bowl add almond flour, sugar, baking powder, eggs, coconut oil, and indi chocolat

e

 

Ca

cao Nibs
Cut the dried apricots in smaller pieces
Fold walnuts and dried apricots into dough
Grease parchment paper
Form bread on parchment paper
Add indi chocolate Cacao Nibs as a topping on bread
Bake for 25 minutes
Cool down for 45 minutes
Cut biscotti-bread into long pieces
Preheat oven to 300 F
Bake pieces again for 10-15 minutes until golden on the sides
Flip biscotti over and bake for another 10 minutes
Let it cool down in the oven by leaving the oven door open
Melt 72% single origin dark chocolate and drizzle on top of biscotti 
Allow the chocolate to harden
Enjoy with a cup of coffee, tea, milk or hot chocolate!