Cooking with Cannabis: Chocolate Molé Caramel Tart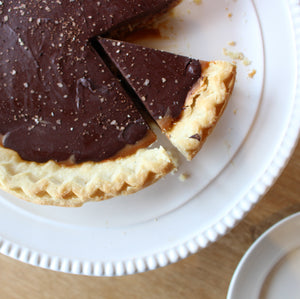 We partnered up with Pearl2o to come up with the most delicious decadent treat.  It is amazing that cannabis is legal in Seattle, because now people can go into a dispensary and get exactly what they want or need. Pearl2o is a great option if you want to make a cannabis infused treat.
Pearl2o is a water based food and beverage mixer that maintains potency when cooked, chilled or frozen. You can cook, mix and create with no cannabis taste or smell. It's great for adding precise, consistent amounts of CBD and THC to your cooking or beverages. It also has a lot of CBD which has been said to have amazing health benefits. Each vial has 10 MG CBD + 10 MG THC per vial in a 5 serving packet.
Choosing a product with higher amounts of CBD is said to have many health benefits, such as:
Natural pain relief
Reduces anxiety
Helps fight cancer
Promotes Cardiovascular Health
 Dark Chocolate is said to have many health benefits as well:
Potential Cancer Prevention.
Improved Heart Health.
Good for Overall Cholesterol Profile.
Blood Pressure and Blood Sugar Aid.
Antioxidant-Rich Superfood.
Cannabis and chocolate is a winning combination!
Chocolate Molé Caramel Tart Recipe
There is no shame in buying an already made pie crust to keep this recipe easy, but if you want to make your own crust here is how:
Ingredients:
2 cups flour, sifted
1 teaspoon salt
2/3 cup butter
5-7 tablespoons cold water
Directions:
Put flour into a mixing bowl with the butter.
Cut the butter into the flour.
Add salt and water.
Mix the dough.
Roll it out on to flat surface. Pri
Bake at 375 degrees until brown.
Press the dough into the pie pan and poke the crust with a fork to make little holes in the crust.
indi chocolate Molé Caramel Sauce:
Ingredients:
1 cup sugar
6 Tbsp butter
1/2 cup heavy whipping cream
1 vile of Pearl2o
Directions:
In a saucepan heat sugar on medium high. As the sugar begins to melt, stir vigorously with a whisk. As soon as the melted sugar is simmering, stop stirring.
The sugar should be amber in color, immediately add butter and whisk.
Once the butter is melted remove from heat and add the cream, slowly whisk.
Add the vile of Pearl2o and the Molé Spice Rub to the caramel as it cools.
Dark Chocolate Ganache:
Ingredients:
Directions:
Heat coconut milk to just below boiling stir to incorporate indi chocolate 72% dark chocolate
Mix well, until the ganache is smooth and glossy.
Assembling the Chocolate Molé Tart:
Pour cannabis infused caramel into the crust.
Pour chocolate over the crust.
Garnish with Molé and sea salt.
Put in the fridge for 2-4 hours before serving.
Enjoy!