Jamaican Jerk Wings with a Thai Marinade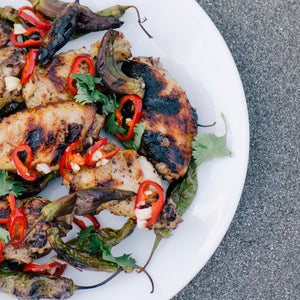 July 29th is International Chicken Wing Day and we're here to help you celebrate! You can always go to your local bar and get buffalo or bbq wings, so change things up with this unique recipe using our Jamaican Jerk Spice Rub. This wing recipe was created with the intention of  fusing together complex flavors that work together to create an amazing taste. The marinade uses Thai inspired sauces and ingredients while our Jamaican Jerk Spice Rub gives it a Caribbean flare. Lots of flavor in these wings, you'll have to try them out to believe us.
Remember: Wings are best enjoyed when shared amongst friends, but there is no shame in making yourself a heaping plate of these delicious wings, because they are that good. Don't worry, we added something green for good measure.
Wings are surprisingly easy to whip up and we've also included a garnish of our Quick Pickled Red Jalapeños & Grilled Shishito Peppers to add an extra kick and some color. We cooked these on the grill to give them some depth and smokiness as well as a slight crisp. This was our ideal method of making them, but you can always use an oven.
Chef Eric from Eat Seattle helped us with this recipe and a lot of other grilling recipes. We love collaborating with people who love food. Chef Eric is a grill master and not only helped us with this recipe, but he also helped us create the Jamaican Jerk Spice Rub itself. "The classic Jamaican jerk spices (cinnamon, nutmeg, etc.) with a little heat play beautifully with the cacao for complex layers of flavor."
Ingredients
1 shallot diced
Juice of 1 lime
1 tsp maple syrup
1 tsp soy sauce
1 tsp toasted sesame oil
¼ cup olive oil
½ tsp Salt
½ tsp Black pepper
2 tsp jamaican jerk seasoning
2 large cloves of chopped garlic
12 chicken wings
Garnish with Quick Pickled Red Jalapeno

&

Grilled Shishito Peppers
Instructions
Combine all ingredients except the garnish together in a bowl and stir.
Add wings to the bowl and toss to evenly coat them.
Marinate for 30 minutes.
While they marinate, turn the grill on to a medium-high heat.
Once it's around 400

degrees, place them on the grill for 10 minutes on each side.
Quick Pickled Red Jalapeño
Ingredients
2-3 Red Jalapeños
½ tsp Black pepper
½ tsp Salt
3 tbsp apple cider vinegar
1 large clove garlic
½ tsp maple syrup
Chop red jalapeño into round slices and combine all ingredients in a mason jar.
Throw in the refrigerator to help it pickle faster.
Let sit for at least 20 minutes.
Garnish the wings.
Grilled Shishito Peppers
Drizzle the peppers in some olive oil and add a sprinkle of salt.
Throw on the grill with the chicken and cook until they have a little char on them.
Garnish the wings.