Miso Cacao Nib Oatmeal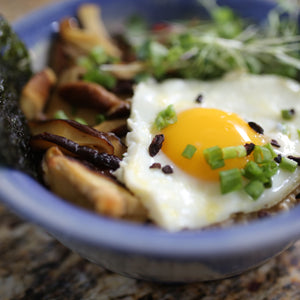 Ingredients:
1 cup cooked steel cut oats
1 tbs miso paste
1 tbs tahini
1 tsp tamari
1 tbs butter
1/4 cup nutritional or brewers yeast
Shiitake mushrooms
1 fried egg
chopped green onions
Roasted nori
micro-greens
Directions:
Add miso paste, tahini, tamari, and nutritional yeast to your cooked oatmeal and stir.
Saute butter and shiitake mushrooms in a frying pan and add to the top of the oatmeal.
Add micro-greens, nori, green onion, cacao nibs and fried egg.
Enjoy!
---
Also in Recipes