Molé Elote - Mexican Corn on the Cob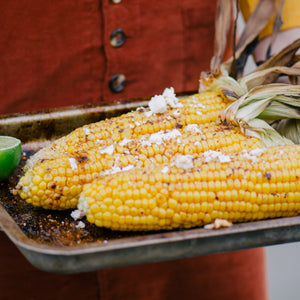 When it comes to summer food favorites, corn on the cob can't be beat.  This summer we have been coming up with lots of amazing recipes on the grill that are worth checking out.  Corn on the cob is one of our favorites and we have kicked it up a notch with this Molé Elote recipe. Elote is a traditional street food in Mexico topped with a delicious layer of butter and spices.  If you ever have the chance to try it out first hand it's worth a trip south of the border. If you want to make it at home this recipe is super easy to put together and will definitely be a favorite at any barbecue or party this summer!
A brief history on corn: Corn was most popularly grown and harvested in Central and South America. It helped to increase their economies and population and led to its growth to North America.
Since a lot of our cacao comes from Central and South America, we tried to make a recipe to incorporate all of these different regions. Our Molé Cacao Spice Rub is really something special and is the perfect touch on top of the Elote. It gives the corn a little kick of smokeyness and flavor.
Ingredients:
¼ cup salted butter
2 tsp molé cacao spice rub
Juice of 2 limes
1 cup crumbly cheese (cotija)
5 ears of corn (keeping the husk on but remove the silk)
Directions:
Heat the grill on medium high.
While the grill is heating, in a small container, add the butter with the spice rub and mix well until it's totally combined and creamy.
Tip: scrape around the edges of container to make sure all the butter is completely blended.
Once the grill is heated, put the corn on the grill and close.
Rotate the corn every 5 minutes or so for a total of 15-20 minutes. The kernels should be tender when they're ready.
Take the mole butter and spread it on each ear of corn.
Squeeze the limes over the corn to taste.
Sprinkle the cotija on top.
Buen provecho.