Molé Marble Banana Bread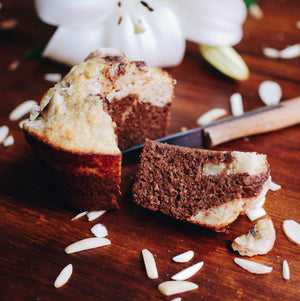 Spice up your average banana bread with indi chocolate Molé Spice Rub. This extra dash of spice will take banana bread to the next level, with an elevated flavor. Warning, not a crumb will remain.

Yield: 6 XL muffins
Ingredients: 
6 bananas (as ripe as possible)
3 eggs
1 teaspoon vanilla
1 teaspoon indi chocolate Molé Spice Rub 
1 tablespoon honey
2 tablespoons oil
1 cup almond meal
1 teaspoon salt
1 teaspoon baking soda
3 tablespoon cacao powder
3 tablespoon almond sticks
almond slices
indi chocolate cacao nibs to sprinkle on top (optional)
Directions: 
Preheat the oven to 365°F
Add 5 bananas, eggs, vanilla, honey, oil, almond meal, baking soda, salt and mix well
Cut 1 banana into pieces
Separate the dough: place 1/3 of the dough into one bowl and 2/3 in the other
To the 1/3 dough, add almond sticks and mix well with a spoon
To the 2/3 dough, add the Molé Spice Rub and cacao powder, mix well
Place 3-4 tablespoons of cacao dough for each muffin into the baking dish
Place banana pieces into cacao dough
Place 2-3 tablespoons of regular dough for each muffin into the baking dish
Swirl dough with a fork, to achieve a nice pattern
Decorate muffins with banana pieces and almond slices
Bake for 30 minutes
Enjoy!
---
Also in Recipes