Pacific Northwest Cioppino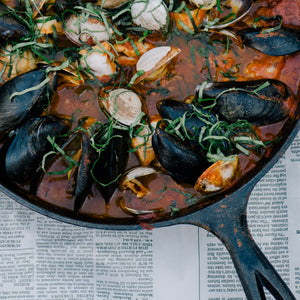 If you've never heard of Cioppino, you may be a bit intimidated. Rest assured, this was easy to make and tasted absolutely delicious! Cioppino originated in San Francisco and is traditionally a fish stew made with tomatoes and various herbs & spices. It is an Italian-American dish with its similarities to various regional soups in Italy.
Being in the Pacific Northwest we are lucky to be surrounded by such amazing and fresh seafood. We wanted to take advantage of our local ingredients to make this PNW Cioppino. Of course we had to give it an indi chocolate spin, so in this recipe we included our Pacific Spice Rub which is perfect for any seafood dish. It pairs so nicely with the Spanish paprika and cayenne and gives it a ton of flavor.
We included Pacific Rockfish in our Cioppino but any white fish that you like will do. If you don't have fish stock in your cabinet, a vegetable stock will do just fine. We served this alongside toasted bread from a local bakery to soak up the broth and we highly recommend you do the same!
Ingredients:
2 tbsp olive oil
3 shallots
2 tbsp Pacific spice rub
Sausage (we used Merguez)
1 tsp cayenne
1 tsp spanish paprika
1/2 cup white wine
26 oz died tomatoes
2 tsp tomato paste
2 cups fish stock
2 Pacific rockfish fillets cut into chunks
1 lb mussels
1 lb clams
Instructions:
Heat cast iron skillet on medium high.
Once it's hot, add the olive oil.
Once the olive oil is heated, add the Merguez sausage out of the casing and into the cast iron skillet to brown it.
Break up sausage as much as you can while stirring.
Add the chopped shallots and stir.
Add pacific spice rub, cayenne and Spanish paprika and stir to combine.
Let simmer for 5 minutes.
Add white wine and scrape brown bits off the bottom.
Add tomatoes, tomato paste and fish stock.
Stir to combine and let simmer for 15 minutes.
Place filet chunks and shellfish into the simmering broth.
Let simmer until the filet chunks are cooked through and the shellfish has opened, about 6 to 10 minutes.
Serve alongside toasted bread.