Roast Cauliflower with Tahini & Cacao Masala Spice Rub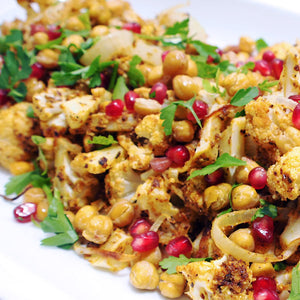 We've teamed up with Adria Saracino of The Emerald Palate to experiment with our Cacao Spice Rubs. Read on for a delicious dish using our Cacao Masala Spice Rub and find more awesome recipes on her website!
There's nothing I love more than the challenge of using an ingredient in an unusual way. If you remember from my salmon recipe with pistachio-cacao nib gremolata or my chipotle chocolate chicken recipe, I love playing with chocolate in savory dishes.
So when indi chocolate reached out to me to see if I'd be up for the challenge of using their cocoa spice rubs in a recipe, I said, "Yes please."
The result? A sweet twist on a Mediterranean-inspired dish: roast cauliflower with tahini, pomegranates, and indi chocolate's cacao-masala spice rub. Read on to learn more about indi chocolate and to get this easy recipe!
About indi chocolate
I had the chance to chat with indi chocolate's Sammamish-based founder, Erin Andrews, to learn more about how she got started and what makes indi chocolate special. Here's a snippet of our conversation.
When asked,
 

"What is indi chocolate?", what do you say?

Erin: The discovery of chocolate in ways you've never anticipated. We like to play with chocolate. People think "chocolate" and they think of a bar, but I want it to be a multi-sensory experience.

I can say we've done what no other lotion and lip balm company has done: we sprung up a chocolate factory and cafe.

 
A lotion company? Tell me more about that.
Erin: This is actually my second company. I started working at another chocolate company in Belize, but when I knew I wanted to move to Seattle I needed something that had lower overhead costs as I got started.
It was always my intention to make chocolate, but I had the idea to start with lotions and lip balms because my younger daughter had a reaction to most body products. I was thinking, "What is this junk?" and so I started making cocoa butter lotions myself.
As I started earning money from that, I started making chocolate from my own kitchen. I've perfected the technique of creating chocolate from home, so now I sell equipment and teach classes about it!
How did you get into the chocolate business?
Erin: My sister was planning to go on a family trip to Belize and asked if I wanted to come. I had been there before and knew I wanted to spend longer than a week, so I had to think of a way to convince my husband to take an extra week off work.
I said, "I know. I'll teach my kids how chocolate grows on trees as a way." As soon as I made that decision, I started doing an extraordinary amount of research about how chocolate is made. The weirdest part of the entire story though is that I never, ever wanted to own my own business. I'd run the other way!
But on the plane ride, I said to my husband that I had this overwhelming feeling that I was going to start a business in Belize. He kept going, "What? What are you talking about?" But sometimes you have this knowing. I call it my chocolate space, the thing I'm going to do next is presented to me.
"I can say we've done what no other lotion and lip balm company has done: we sprung up a chocolate factory and cafe."
What do you think peoples' misconceptions are about chocolate?
Erin: Most people have no idea how much hard work goes into making chocolate. Take the farmers. All the pods are hand harvested and pruned, this is not a mechanized process. It's a lot of hard work from a farming process.
And then there's a lot of hard work during the making process. A lot of people start with chocolate already. They're a chocolatiers. A lot less people are sourcing their own beans and making it from scratch.
I start my process a lot earlier than most people. I go to the origin. I like to know how it's grown, not only the genetics but also the farm and how it's put together. I want to work with farms that are sustainable in the long term, such as by planting multiple crops to promote soil health. Having something that is a sustainable model is important so they don't expose themselves to disease. And I'm willing to pay more for those because that for me is very important.
But the biggest risk for cacao is that if we don't pay the farmers enough we won't have enough farmers making amazing cacao. We're at risk of going the direction of the banana industry, where we only have one type.
What do you mean we're at risk of ending up like the banana industry?
Erin: Here's a funny story. You know the slipping on the banana in the cartoons? Back in the day there were bananas that had an oily skin. It was in humor and recognized as a cultural norm, but that doesn't exist today. We wanted a banana we could harvest green and be yellow on the shelf, so we started mono-cropping and caused a lack of diversity. Now there's basically only one type of banana.
What are you most proud of?
Erin: First, my team. I have the opportunity to work with amazing people.
Second, I have the best product of any chocolate line in the world. That sounds really bold for such a small company, but I've worked really hard to keep things really unique and really high quality. That's not easy to do as a small company, but I have some really creative people I get to work with that help me do what I do.
What product do you say all people must try?
Erin: Our lotion. There's very few things people truly express joy about. My favorite thing is to see people try our lotion and express that joy. Their eyes light up. And the number one response is, "Oh my god," after they put it on. I can point out the people who have been in the market because I'll see them put their hands up to their nose and smile. It gives me joy to see people have that reaction to something I make.
Where can people find indi chocolate?
Erin: They can buy it online, in our Pike Place Market factory, or DeLaurenti in Pike Place Market.
Direct to consumer has been my focus, which isn't typical. Most people try to go to wholesale, but I want to make sure we have quality rather than just mass production. Unless you beg and plead, I don't sell in stores. However, DeLaurenti has it. They begged a lot and so I relented.
What's next for indi chocolate?
Erin: I'm super excited about the classes we're doing. To me this has been one of the greatest joys of our space: we finally have the space to do events! We've done book launches, Seattle Made events, and more. Classes and events are really going to be more of our focus. We're next to Old Stove Brewery so we can do more events with them. They already do chocolate with our cacao nibs!
About the Spice Mix I Used in This Recipe
indi chocolate sent me a set of 6 spice mixes ($45 for the set or $8 each): mole, pacific, cacao masala, jerk, barbecue, and jalapeño. All of the spices have cacao as the predominant ingredient, and all are inspired by different types of cuisine.
The one that stood out to me was the cacao masala. It's Indian-inspired and I knew immediately that the chocolate flavor would go amazing with roast cauliflower. I also saw a recipe for tahini brownies recently, so I was inspired to go mediterranean with this dish.
What does this roast cauliflower recipe taste like?
I love the warm and earthy, Mediterranean flavors of this roast cauliflower side dish recipe. The indi chocolate spice mix gives it a beautiful brown color, almost like it's charred. There's a hint of bitter chocolate, but it's a savory dish for sure.
What makes this dish, though, is all the yummy add-ons. The pomegranates give it a burst of sweet juiciness, while the roast chickpeas give it a crunch similar to a nut. And the herbaceousness of the parsley is the perfect touch to balance out this roast cauliflower side dish.
And the best part, it's super easy to make!
The Recipe
Serves 4 | Active 10 minutes | 40 minutes total
Ingredients:
1 head of cauliflower

 

(about 2 lbs)
1/4 C tahini
1 tsp. lemon zest
3 Tbsp. lemon juice
2 cloves garlic, minced
1 Tbsp. plus 1 tsp. of

 

indi chocolate's cocoa masala spice rub
1/2 tsp. salt
Black pepper from a mill to taste
1/4 C plus 1 Tbsp. extra virgin olive oil
1/2 a medium yellow onion, sliced thin
1, 15.5 oz can of chickpeas, washed & dried

 

(I prefer the cans with no salt added. Or, even better, freshly made chickpeas!)
1 C pomegranate seeds
1 C parsley, roughly chopped
Coarse sea salt for finishing
Directions:
Preheat the oven to 400 degrees F. Mix the tahini, indi chocolate cocoa masala spice rub, lemon juice, lemon zest, 1/4 tsp. of the salt, 2 grinds of black pepper, and garlic in a bowl. Whisk together and then slowly drizzle 1/4 C of the extra virgin olive oil into it while whisking to incorporate. It will be the consistency of slightly thinned-out almond butter.
Add the cauliflower florets and onion and toss to cover. Spread the cauliflower and onion on a cookie sheet and roast for 30 minutes.
Meanwhile, spread the chickpeas out on another cookie sheet. Add the remaining 1 Tbsp. of extra virgin olive oil, 1/4 tsp. salt, and 2-3 grinds black pepper to taste. Mix with your hands to incorporate. Lay them in a single layer and add them to the oven, roasting for 15 minutes until crispy, stirring once halfway through.
Remove the cauliflower from the oven and add it to a platter. Top them with the chickpeas, sea salt (to taste), parsley, and pomegranate. Serve & enjoy!
Nutritional Information Per Serving:
Calories: 388 | Calories from fat: 210 | Fat: 23.2g | Saturated fat: 1.7g | Cholesterol: 0mg | Sodium: 661mg | Carbs: 36.6g | Fiber: 11.3g | Sugars: 11g | Protein: 6.2g