Smoothie Bowl full of LOVE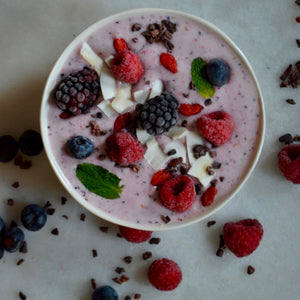 February is as a month dedicated to self love and we have come up with some awesome ideas on how to treat yourself!
Chocolate gets a bad reputation for being lousy for your health, but it is all about what kind of chocolate you are eating and how much you are eating. Eating a piece of dark chocolate everyday is a great source of antioxidants and a great way to savor a moment.
We love coming up with healthy recipes and inventive ways to eat more chocolate in a day! This smoothie bowl can be made all year long and hopefully when you are enjoying it you remember doing something like eating a healthy smoothie bowl in the morning is a great way to get yourself energized and give yourself some love.
Ingredients:
1 cup Greek Yogurt (we used Ellenos Lemon Curd)
1 cup Almond Milk
1 cup Frozen Mixed Berries (blueberry, blackberry, strawberry)
2 tbs Chia Seeds
1 scoop Collagen Peptides ( said to support healthy hair, skin, nails, bone and joint health, digestion, muscle recovery, and more)
Toppings:
Goji berries
Coconut flakes
Frozen berries
Mint
Directions:
Blend all of the ingredients, mixture should be a little thicker than a smoothie, because you will be using this as the base for your smoothie bowl.
Pour smoothie into bowl and dress with the toppings.
Be creative and add anything you want!
Enjoy